What if I am not in when you deliver?
All of our meat is delivered in specially designed, temperature controlled boxes which can stay chilled for up to 24 hours - this helps to guarantee you fresh produce in every order.
If there is nobody available to accept your order, the courier will either leave your box in a designated safe place or leave with a neighbour if possible - be sure to check with neighbours if you cannot locate your order prior to contacting us.
Your MuscleFood meats are protected by using: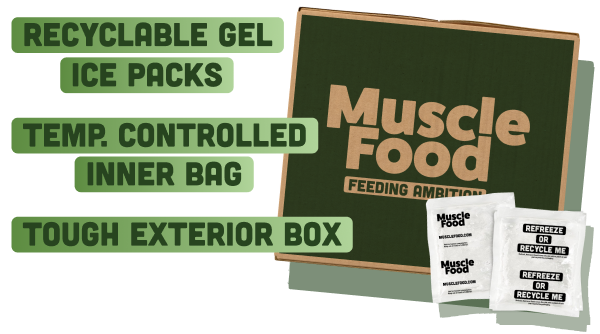 Top quality temperature controlled boxes - Our insulated boxes are made from closed cell non cross linked polythylene keeping your meats fresh for up to 48 hours.
Hydrated gel ice sheets - These specially designed sheets are pre-cooled before enveloping your order to ensure your meat arrives chilled (not frozen). They help keep your meat as fresh as the day it was cut and they can be reused.
Triple strength layered box - Our custom made boxes are three times stronger than ordinary boxes and are specifically designed for carrying chilled meats.
Recyclable & reusable - We have designed our packaging so you can reuse or recycle it where possible.
Please note, packaging can change throughout the year; all packaging that we use has been thoroughly tested to ensure this keeps your order chilled for up to 48 hours.